Women's Clothing – Learn What Looks Slimming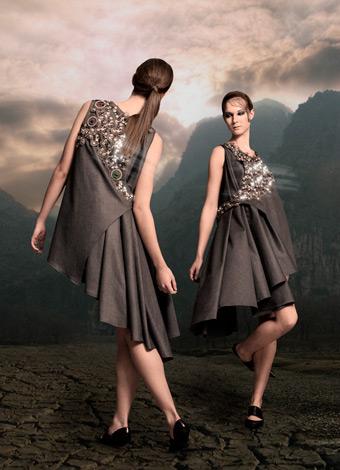 Every woman has an area of their body they are not happy with and if this sounds like you, we have some fashion pieces that can help you eliminate these problem areas and create a slimming look with little to no effort. It can take time to achieve your perfect figure and in the meantime you can still look your best and stay up to date with the current fashion trends. Don't fall under the illusion that because you have not yet met your ideal body weight that you can't dress trendy!
The first step towards creating a slimming outfit is choosing darker color schemes. This is a very classic and traditional method to look slimmer than you really are but one that still works and is quite effective. Pin stripe black pants can be a miracle worker for a slimmer appearance. The vertical stripes, a straight legged pant and the dark color all work together to help hide problem areas easily and elegantly. On a dressier note, the glamorous little black dress is yet another dark piece of casual wear that can be worn to help create that slimmer appearance we are all striving for.
The next thing to consider is patterns. In today's fashion trends you will find there are many bold and eccentric patterns available and although some of them may appeal to your fashion sense they may not be able to do anything positive for your figure. If you do decide to wear something with a pattern make sure that it is always on top and paired with a solid bottom, preferably black or dark bottoms. Black leggings are the perfect solution to this problem. They are a part of today's casual wear collection and should not be overlooked because you think you are not the perfect size for them. Leggings can make your legs look slimmer and be worn underneath tunics and skirts to create the slimming look while maintaining today's fashion trends.
Size is incredibly important to create the slimming effect as well. Many women are tempted to buy clothing that fits too tightly or too loosely and these are both mistakes. For someone trying to achieve their perfect body weight, shopping may not be your favourite thing but what you need to know is you can look glamorous with little to no effort if you know what to look for. Choosing the perfect fitting clothing, dark colors and few to no patterns or designs is a great way to create a traditionally glamorous look as well as slimming.
A great rule of thumb for sizing when it comes to casual wear is to consider your waistline. If you find your stomach is hanging out over your pants you've purchased a size too small. They may fit fine everywhere else but if your stomach is hanging over your waistline this can create a very unflattering look. Everyone has excess fat and the trick is to hide it not to accentuate it by wearing clothing that is too tight.
Fashion trends today can help us create the illusion of a slimmer figure through casual wear and hot designer companies such as Elan International; start shopping to find out for yourself today!