Season's Greetings From The Fashion Industry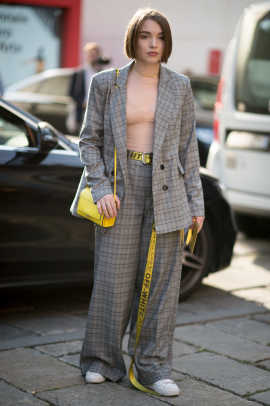 The fashion calendar is a strange one for retailers. Winter collections are bought in spring and summer collections are bought in winter. That way manufacturers can make sure you get the clothes you want when you want them. Well, almost. We all know how frustrating it can be on a freezing cold day in January when, trying to find a cosy cardigan, the shops are full of tee shirts, bikinis and linen trousers!
So given that we already have the inside track on next year's spring and summer fashions, what beans are there to spill?
The good news is that we don't need to go out and buy a whole new wardrobe. The season's trends are so varied that pretty much anything goes, which is refreshing in a very un-fashion sort of way. It suggests that we might actually be growing up and dressing for ourselves and our lifestyles rather than slavishly buying into tricky-to-wear styles that only really look good on catwalk models.
The palette goes from white (lots of) through soft pastels and bright acids, khakis and camouflage to black (again, lots of). Blocked, printed or mixed-up, colour-wise you can wear anything you like. Lace and chiffon are in abundance as is texture generally. Layering still plays a big part in the way we style ourselves and is especially useful for the UK climate where a sunny morning can easily turn into a cloudy afternoon. The '70s look is big. Think soft tailored jackets, long-line flared trousers, blouses and heels. But we will also see lots of nautical pieces, military looks and denim.
Keep an eye out for Breton stripes, summer-weight parkas and leathers, combat pants, feminine cotton knits, gingham shorts, lace dresses and shirts. Wear your bottom half long, midi or short – the choice is entirely yours. Maxi dresses continue to be popular and next year we will also see the maxi skirt.
In terms of denim, (no wardrobe is complete without several pairs of jeans) hang on to your Houlihans and your Agneses, buy into the Gigis (3/4 length kick flare) from J Brand and whatever you do, find yourself a fabulous pair of high-waisted flares.
The killer heel will be superseded by the kitten hell but our trusty summer wedges will see us through another season quite effortlessly. Pumps, gladiators and flip-flops will all still feature.
Oh, and don't forget a hat – fedoras will be everywhere!